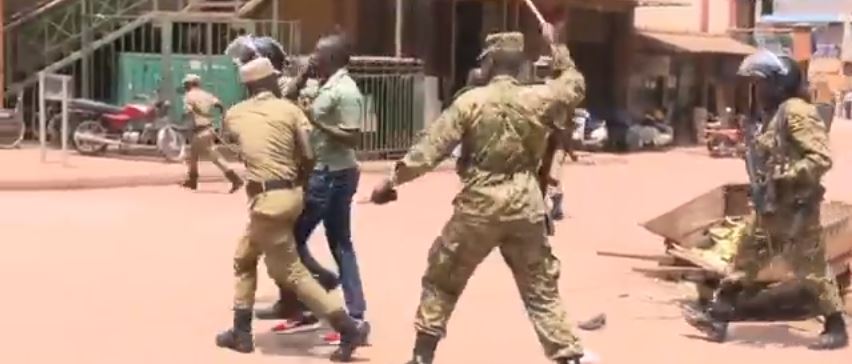 On several occasions, security agencies have been seen brutally arresting people in different operations which have raised widespread public criticism. This week the Inspector General of Police Martins Okoth Ochola while addressing a press conference condemned the manner in which security agencies violate the rights of Ugandans while arresting them.
"…their rights are abused, there are processes that can be followed to ensure that justice is given to them." Said, Martins Okoth Ochola – Inspector General of Police.
Now, President Yoweri Museveni issued a statement to different security agencies giving guidelines on how to arrest suspects and contain riots.
The letter addressed to the leaders of the Uganda People's Defense Force, Uganda Police Force, Internal Security Organization and External Security Organization called on the security agents to always act on a human manner during the course of their duties.
Some of the measures that the president advocated for were; using water cannons instead of using rubber bullets to teargas while dispersing rioters, firing in the air if rioters become uncontrollable, and only firing into crowds if rioters pose a danger to the lives of others.
The president said the use of tear gas and bullets creates noise and panic which disrupts the activities of even those not involved in the riots.
The president encouraged the use of buttons and shields to disperse the crowds. The president has however warned that if the rioters cross the line of safety put up by officers and the lives of innocent people and property are under threat then live ammunition can be used.
In his letter, president Museveni also said security agents should not push back people who surge towards leaders they support, shout at or bark at people, beat rioters who have already been arrested.
The president said in his letter that no Ugandan should lose his life or property on account on acts of criminals, markets or transport should never be interfered with by criminals, and nobody should be allowed to threaten the stability of Uganda.
He has also warned the security organizations against being both arresters and prosecutors. He further commended the SFC, Military Police and CMI for maintaining stability saying other security agencies had been infiltrated and compromised by wrong elements.
On the issue of Yusuf Kawooya who was brutally arrested by plain-clothed security agents, the president said Kawooya was violent and had beaten one of the people arresting him which could have tempted the security persons to behave the way they did. What awaits to be seen is how the security agents will put the president's recommendations into action.