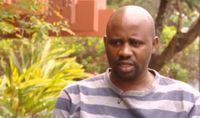 Following the state of murders and other violent crimes around the Kampala Metropolitan area, president Museveni has been pushing for the installation of CCTV cameras as part of a strategy to reduce crime around the City and adjacent areas.
The president launched a CCTV Command Center at Natete from where the 359 cameras that have already been installed in different parts of the City shall be monitored.
The president who was accompanied by the Security Minister Gen. Elly Tumwine, Police Chief Martins Okoth Ochola, and his deputy Brig. SabitiMuzei among others studied the demonstration of the CCTV technology which was turned in by Commissioner Felix Baryamwisaki the Acting Director of ICT in the Uganda Police Force. "So, such kind of cameras help to view and see beyond."
The cameras have several capabilities that include automatic number plate and facial recognition. "If that person reaches where there is that facial recognition camera, there will be an alarm.
The cameras can also monitor abandoned objects and send alerts for the Police to respond to. The Police also said the cameras will be used to spot swelling crowds to enable them to curb riots and demonstrations in time.
"If someone calls from a point there is no question of asking him where are you calling from? You will be seeing where he is located and you only request him to tell you what the problem is.
Having been taken through a demonstration, president Museveni said the NRM had dealt with many big problems and boda-boda criminals will also be dealt with in the due course.
"Today it is much simpler, one of the least problems I have solved in the last 50 years of my work because these are just here in town." Said, H.E Yoweri K. Museveni – President of Uganda.
The president also highlighted the importance of a good intelligence system. "To quickly identify who did what, was done. I can now plug in and see who didn't respond because it's not only to respond but also helps me to monitor these sleeping policemen." Said, H.E Yoweri K. Museveni – President of Uganda.
It is estimated that the Kampala Metropolitan area needs 3,322 CCTV cameras of which only 359 have been installed. 1,019 more cameras have already been procured and are awaiting installation.
"We expect by mid-November to have finished Katwe, CPS, Division, Wandegeya Division, and Old Kampala." Said, Felix Baryamwisaki – Acting Director ICT, Uganda Police Force.
However, some issues like tinted car windows and pole-mounted number plates might make face and number plate recognition difficult for the cameras. When Kampala and surrounding areas are fully covered, the installation of CCTV cameras will then move to other urban centers around the country.